ATHENS WORKSHOP
Workshop Programme
(PDF - 102 KB)
Download the poster
(PDF - 129 KB)
TECHNICAL SESSION: Introduction to MAX/MSP
Download example from DAY 1
(MAX patch file - 10.4 KB)
Download example file from DAY 1

(commented)


--- many thanks to Lucy H G ---
(MAX patch file - 18.7 KB)
Download example file from DAY 2
(MAX patch file - 6.34 KB)
Download example file from DAY 2

(commented)


--- once again, many thanks to Lucy H G ---
(MAX patch file - 9.45 KB)
Download example file from DAY 3 (1)
(MAX patch file - 11.1 KB)
Download example file from DAY 3 (2)
(MAX patch file - 14.4 KB)

Modeling and development of interactive and networked
artworks with open-source software and hardware
(Kostas Chorianopoulos)

Download handout
(PDF - 12.3 KB)

FEEDBACK FORMS
Web support form
(DOC - 29 KB)
Workshop organization questionnaire
(DOC - 27 KB)

STANLEY HOTEL
1 Odisseos str, Karaiskaki Square
Athens 10437
Tel.: +30 210 5241611
Fax: +30 210 5244611
The easiest and fastest way to arrive at the hotel is by train. Take the METRO from the airport and follow the blue line all the way to "SYNTAGMA SQUARE" and from there take subway line 2 (RED) directed to AGHIOS ANTONIOS and get off at METAXOURGHIO STATION. This is where the hotel is at Karaiskaki Square.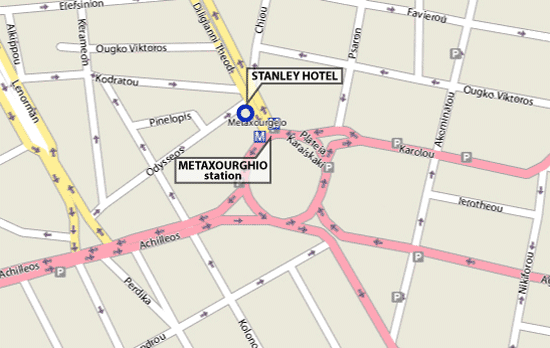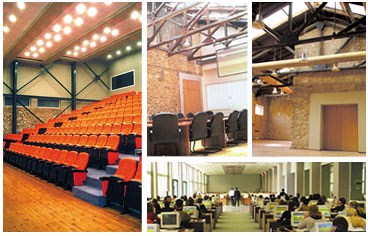 The workshop will take place in the APOLLO Conference Center of the Prefecture of Piraeus.
The "Apollon" Conference Center is located at Ermoupoleos and Piliou str, Kaminia, at 600 m. (10-15 minutes walk) from FALIRO metro station (green line no.1).

In order to get from the hotel to the workshop venue: Take the metro from the METAXOURGHIO metro station (red line), which is outside STANLEY hotel, follow the red line to OMONIA and change there to the green line (direction PIRAEUS). After 7 stops get off at FALIRO station. From there you can walk (10-15 mins) to the conference centre (see map for the route).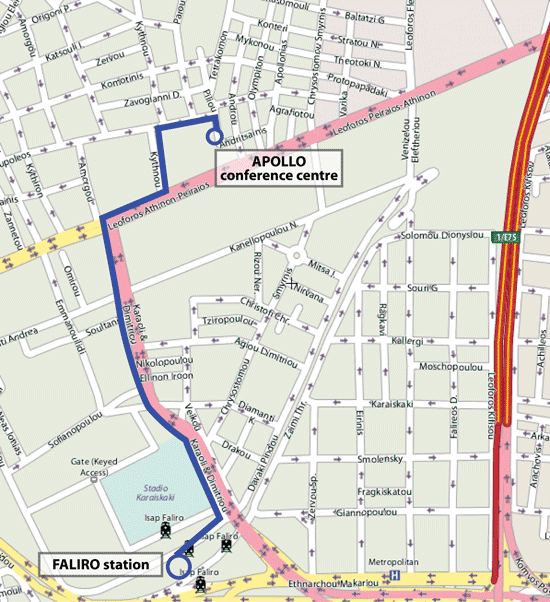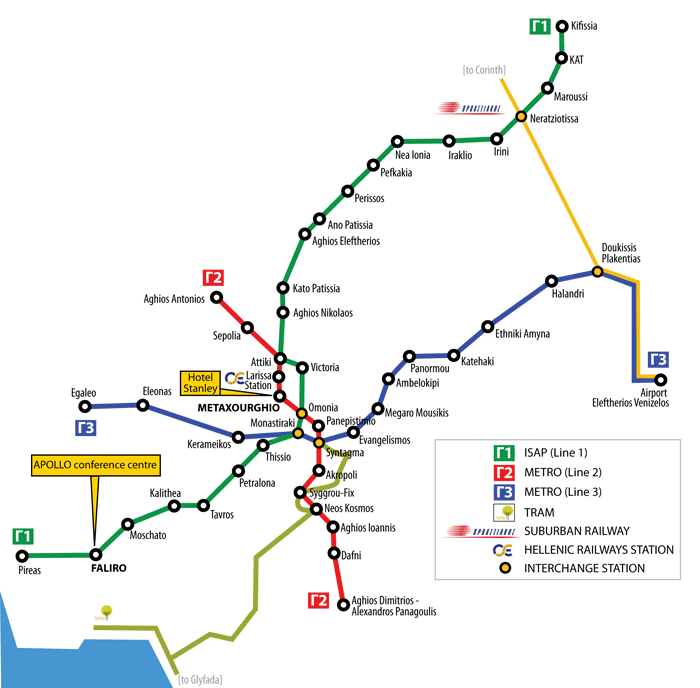 Download a detailed map of all Athens metro routes (PDF format)
For detailed information on Athens metro services, please visit the Attiko Metro website.